In American culture, we are obsessed with hair. A Broadway Musical in the 1970's was written about it with lyrics that describe a wide range of perceptions about it, what happens to it, how we can feel about it and what we should do with it:
…Let it fly in the breeze and get caught in the trees…There ain't no words for the beauty, the splendor, the wonder of my hair, hair, hair, hair, hair, hair, hair, hair…I want it long, straight, curly, fuzzy, snaggy, shaggy, ratty, matty, oily, greasy, fleecy, shining, gleaming streaming, flaxen, waxen, knotted, polka dotted twisted, beaded, braided, powdered, flowered and confettied, bangled, tangled, spangled and spaghettied…Flow it, show it, long as God can grow it, my hair!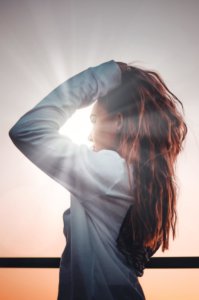 While not everyone wants spangled and confettied hair, investing into a look that makes you feel good about yourself is priceless and can give you great confidence when meeting new people or interviewing with a potential employer. If you are ready to consider something new or feel your hair feels like an overgrown bush, you have plenty of choices, both with style and color.
Try out a new style using a phone app
It's time to use your imagination and have fun. While results vary, this can move you out of your comfort zone to try something different. You will know right away if there's a new style you like. Then you have some talk points for a consultation with your hairdresser. Here's a few of the top apps to try:
Virtual Hairstyle (Android)
Haircut Studio (Android)
Ultimate Hairstyle Try-On (Android)
Hairstyles – Fun and Fashion (Android)
Hairstyle Wizard (iOS)
Hair Color Booth (iOS)
NewDo (iOS)
InStyle (iOS)
Weigh your options – Update your current style or get a new do?
If you have recently moved, and you have to find a new salon, find out if there's a hairdresser that can reshape your existing cut. At the same time, be a little adventurous and ask them if they think a new style would enhance your features. Weigh your options. If they mention a style that you have discovered in a style app, noted above – it's a match! Ditch the update and try a new do.
Go bold with a new cut and color
Sometimes it may be hard to visualize what would work best for you. A true hair artist will have ideas for you, not just do what you ask them to do. A true professional who understands design will properly assess your face shape, skin tone and eyes before making any suggestions. If they hesitate, don't immediately start asking you questions and sizing up your face shape, they probably are not the best choice for you. Once you settle on a look, keep in mind, it may take a few visits before the cut and color look the way they are intended. Your layers may have to grow out for that particular cut to work right. Also, if the hair has been damaged, it may require treatment to restore the health of the hair before color is applied to prevent further damage. A true professional will know the best course of action. Be patient. Greatness takes time and your new style may take shape in stages.
Brightened color, added color or multiple colors?
As we age, or from genetics, our hair can change colors and lose a natural luster. Bad hair products with heavy chemicals can also strip our hair of natural shine and cause it to look dull, become limp and lose density. A professional color specialist won't use harsh chemicals and have plenty of nourishing treatments to support the hair once it has been colored. Halo Design Salon Owner, Charlene Bancel, recommends finding salons that offer high quality products because they are the purest, engineered to help your hair. A few of the top brands include: Olaplex, Pureology, Gladwell, R+Co, and Moroccanoil. Ask your stylist about the products and which one is right for your hair. Product companies that invest into their products also invest into training stylists. If a salon is using high quality color, your nose won't burn when you walk in the door. If you smell harsh chemicals, turn and walk away. You don't want your hair or health to suffer.
Wear your hair in a different way
If you have long hair but have little time to manage it, there are so many things you can do with it. Try different bun styles – they are a great way to wear your hair up and can look great if you need a pro look in a pinch.  Here are a few ideas:


Easy up buns




Half-up – fast and simple hairstyles




10 fun updos for short hair




Six easy hairstyles for long hair




Easy, chic and elegant hairstyles for long hair


If you don't have time to wash your hair, and it's feeling greasy, get a dry shampoo which will improve the feel and even add some body which is excellent for styling and shaping. (Some women go several days without washing after use, too!) Try different implements which will help you get the desired result for wearing your hair up. These are featured in the videos in the links above. Be creative and take an extra 10 minutes per week to play around while the kids are taking a nap or playing with friends.
Other factors that affect your hair
Diet is important to good hair and here are some foods professional nutritionists recommend for healthy hair: chicken, turkey, fish, dairy, eggs, legumes (such as beans and peas), walnuts, flax seed and pumpkin seeds. Iron and amino acids will also have an impact on hair health. Get the full details here.. If you have thinning hair or are losing a lot of hair, you may want to speak with your doctor to find out what else may be going on.
Quality hair products are also very important to hair health.
Hair products packaged by large corporations and found mostly in the grocery store often use filler materials that foam up well, but they are toxic, strip moisture from the hair, reduce hair density or clog the hair shafts. Some of the top offenders include Sulfates, Mineral Oil, Parabens, Denatured Alcohols, Synthetic Fragrances, Formaldehyde, Coal Tar and Silicone. Avoid products that contain these chemicals or oils. Check out this list that describes this in more detail, with the name as they appear on the label. Your hair type and any chemical treatments you have had are considerations for the type of products you should use to support your hair health. Our local experts at Halo Designs Salon in downtown Vancouver, WA offer a large line of products for total hair love. Call first to make sure they are open and available if you want a free consultation.
The many names of hair
When it cooperates we love it, and when it's unruly or out of control it can be very frustrating and discouraging. A professional hairdresser and hair artist will help you find a look that you can sustain and enhance your features no matter the grow out. As a result, your best features shine and your hair can be adjusted as it grows so the cut lasts a good long time. An extraordinary cut and color can last up to 14 weeks, depending on your hair color, color used for enhancement and how fast your hair grows. Who doesn't want their hair to be called pretty, elegant, fun, gorgeous, edgy, wild, cute, sexy, or sassy? You can decide what look you want to express and what best shows off your personality? Let the artist within you shine!
The personality of hair
Hair can be thick or thin, fine and course, straight, curly or wavy, long and short. There's no right or wrong hair – it's uniquely yours and no two heads of hair are alike. Love what you have, and find a hair stylist that will love it too. Hair makes an undeniable statement and helps you to stay in love with you!
For additional style ideas, go to https://www.latest-hairstyles.com/short/ and to learn more about products and salons visit http://locator.olaplex.com/.